Beskrivelse
UNIQUE CONDITION MONITORING EFFICIENCY
Leonova Diamond is a dependable and highly potent analysis tool, addressing all of your condition monitoring needs. It offers a full and wide range of sophisticated measuring techniques as well as all the supporting diagnostic and troubleshooting capabilities. The instrument efficiently and reliably handles different machine characteristics and variable running conditions. State-of-the-art digital technology and careful software design enable superior data acquisition and processing. For use in hazardous areas and hostile environments, an intrinsically safe version is available.
Leonova Diamond offers highly sophisticated vibration measurement and shock pulse measurements with the patented HD technologies, providing razor-sharp spectrums even where signals are weak and low in energy content. The instrument's excellent signal-to-noise ratio gives a decisive advantage where weak signals are present among stronger signals, such as in gearboxes.
Leonova Diamond is part of the Leonova line of portable instruments and sibling to Leonova Emerald®.
Features
Leonova Diamond includes High Definition Shock Pulse Method (SPM HD®) for bearing condition and advanced three-channel vibration analysis for general machine condition and many more features, see below.
Bearing and lubrication condition
Note: Also read about HD ENV® (below) for bearing monitoring.
The SPM HD® method (HDm/HDc)
The SPM HD® method is a patented further development of the Shock Pulse Method (SPM) in being less sensitive to interference from other signals and therefore unique in its ability to measure from very low rpm (0.1 – 20 000 RPM range). SPM HD is used for fast, easy, and reliable diagnosis of the operation condition of rolling element bearings.
SPM Spectrum™
SPM Spectrum™ is based on extraordinary signal quality and 24 bit A/D conversion that provides razor-sharp resolution and helps determine where a possible bearing damage is located with very high precision.
dBm/dBc
The original Shock Pulse Method is based on dBm/dBc that counts the rate of incoming shock pulses per second and provides one value for the shock carpet level and one value for the maximum level (peaks).
LR/HR
The LR/HR method was developed from the original Shock Pulse Method for condition diagnosis of rolling element bearings and allows a precision analysis of oil film condition in the rolling interface.
Vibration analysis
The HD ENV® technique
HD ENV® is a patented enveloping technique used for early detection of impact-related events such as gear and bearing damage. A number of predefined filters are available for easy selection; each designed to detect damages in different failure stages. The method utilizes cleverly engineered algorithms for digital signal processing to obtain optimal data for trending purposes.
Vibration severity plus FFT Spectrum
Measurement of vibration velocity, acceleration, and displacement (0-40kHz frequency range) according to the latest ISO 10816 standards helps to diagnose general machine condition. In addition to the RMS vibration readings, the instrument displays an FFT spectrum, where symptoms of imbalance, misalignment, and structural weakness are easily identified.
Three-channel vibration analysis
Three-channel vibration measurement allows you to study machine movement in three dimensions by observing the difference of the phase angles measured on the three channels. The three channels measure simultaneously, which means fast operation and rapid evaluation of assignments.
EVAM
The EVAM (Evaluated Vibration Analysis Method) measuring technique produces up to 25600 line spectrum with true zoom, provides ready-made machine 'fault symptoms' as well as trending.
Journal bearings
Orbit analysis
For all machines with journal bearings, simultaneous measurement with two vibration transducers supplies an accurate graph of the shaft centre line movement.
Resonance
Structural resonances
Run up/Coast down measurement and Bump test are tools for root cause analysis and show the machine frame vibration characteristics, resonance frequencies, and the reaction at critical speeds.
Corrective maintenance
Precision shaft alignment
For laser alignment of horizontal and vertical machines, the optional LineLazer Alignment Kit connects wirelessly to Leonova Diamond, and the user is guided through the alignment procedure to a perfect result.
Dynamic balancing
Field rotor balancing in single and dual plane according to ISO 1940-1 standard with an initial vibration measurement guiding the user through a balancing procedure with suggestions for correcting the imbalance.
HD Order Tracking
On machinery operating under variable speed, vibration analysis with HD Order Tracking provides reliable data and crystal clear measuring results even when RPM varies greatly during the course of measurement. Order Tracking is applicable in a very wide RPM range, from just a few to thousands of revolutions per minute.
Technical overview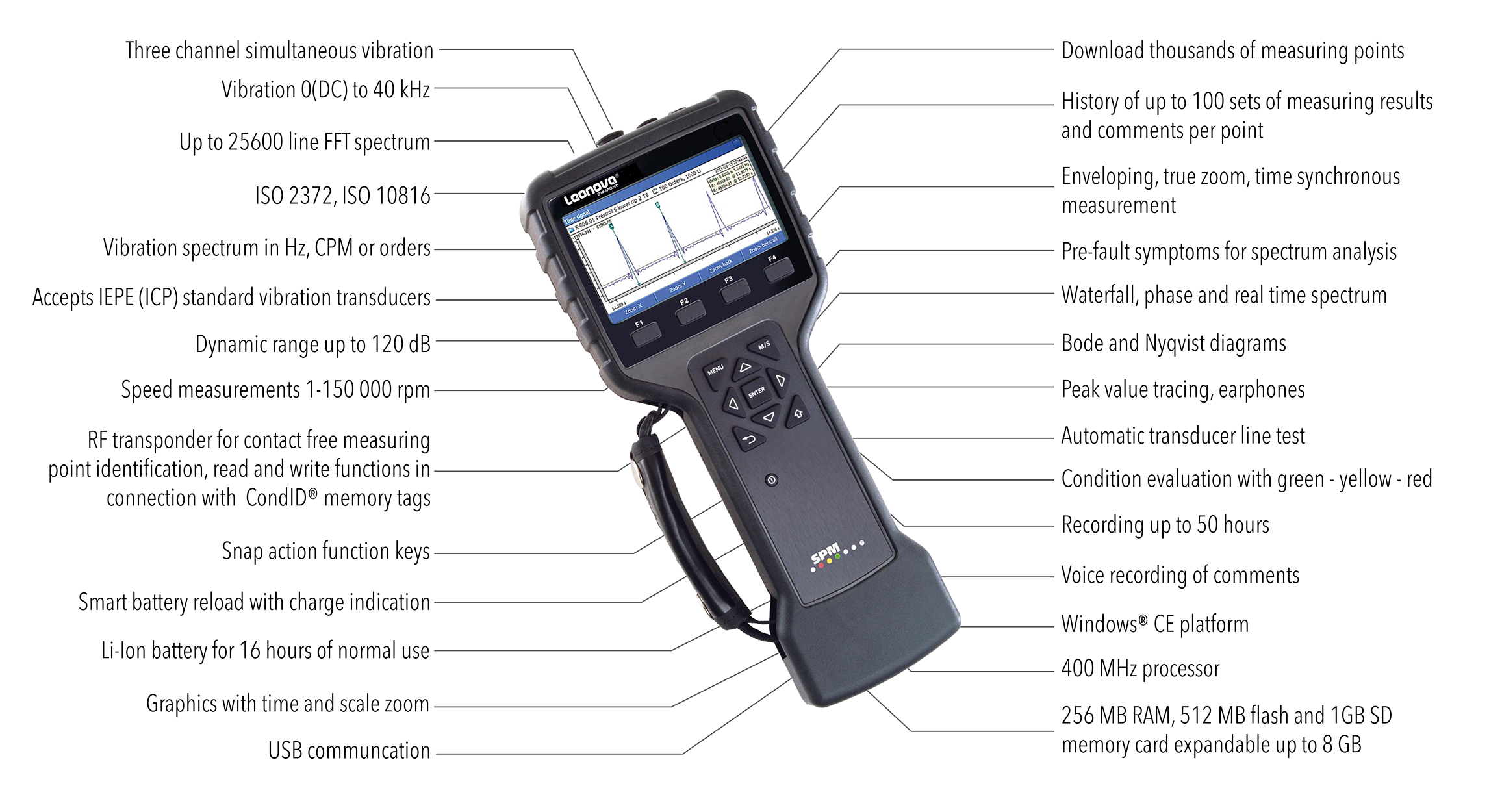 Instrument
Dimensions: 297x130x69 mm
Weight: 890 g
Display: TFT colour, 480×272 pixels, 4.3-inch widescreen, adjustable backlight
Instrument modules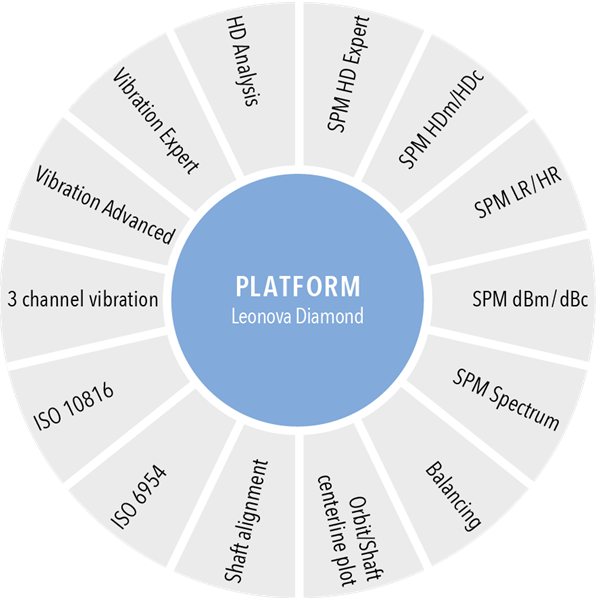 Platform always included for unlimited use
Platform function: SPM HDm/HDc and/or SPM LR/HR.
RMS vibration, ISO 2372.
Speed measurement.
Temperature measurement.
Stethoscope function.
Analog signals, current, and voltage.
Time signal recording.
Measuring point identification with CondID® memory tags.
Automatic recording, up to 50 hours.
Checkpoints, free text.
Recording of vocal comments.
Supports 2 channel simultaneous vibration measurements.
Supports up to 12 800 lines, 20 kHz.
Functions for unlimited or limited use
Unlimited and limited functions can be combined at will.
SPM HD Expert, time, and frequency domain analysis.
Shock pulse method HDm/HDc.
Shock pulse method dBm/dBc.
Shock pulse method LR/HR.
SPM Spectrum.
Vibration ISO 10816 with spectrum.
Vibration ISO 6954.
Orbit analysis/Shaft centerline plot.
3 channel simultaneous vibration.
Vibration Expert.
HD Order Tracking.
Time signal and 25 600 lines/40kHz.
HD ENV.
EVAM evaluated vibration analysis.
Post trigger.
Run up/coast down.
Bump test.
Frequency Response Function (FRF).
Vibration Advanced.
HD Order Tracking.
Time signal and 12 800 lines/20kHz.
HD ENV.
FFT spectrum with symptoms.
Post trigger.
HD Analysis.
Vibration Expert.
SPM HD Expert.
Balancing, single, and dual plane.
Shaft alignment.
PORTABLE INTELLIGENCE IN CONVENIENT PACKAGE SOLUTIONS
With price cuts up to 30% off unbundled prices during this special offer, there has never been a better time to upgrade to this heavy-duty, high-performance instrument. Leonova Diamond® brings powerful analysis and troubleshooting capabilities to your condition monitoring program, and smart, superior-quality data to your IoT and Big Data systems.
This user-friendly data analyzer enables high-efficiency measuring routes with instant condition evaluation in green-yellow-red. Packages include the comprehensive software Condmaster Ruby® for further analysis of measurement data.